My family history
Most of my ancestors were peasants from the historical regions of Greater Poland (Wielkopolska) and southern parts of Royal Prussia (now usually referred to as "Pomorze"). The family of one of my great-grandmothers is the only branch in my family tree which belonged to the Polish nobility, and most of them also originated from Greater Poland. No wonder that between the two World Wars, all four of my grandparents were born or at least studied in the city of Poznan which is the historic capital of Greater Poland and since WWI has become the most important center for education, commerce and industry within Western Poland.
If reading this site because your own genealogical research concerns Posen, you might be interested in the Poznan Marriage Indexing Project which helps descendants of those who left the Poznan area in the 19th century to identify the actual town or parish their ancestors came from. Documents from that time rarely contained any information more specific than the vague term "Posen".
On the image below, the historic borders of Wielkopolska are shown as a green line and birthplaces of my ancestors are represented by coloured spots: grey for paternal and orange for maternal ancestors. Places where many generations lived are shown as larger dots.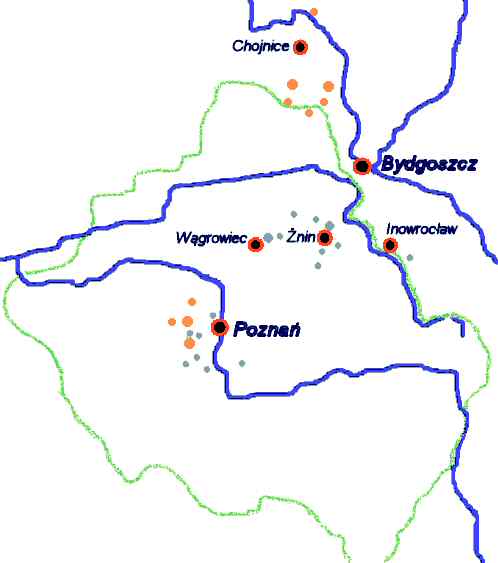 Over the last 15 years, I have been able to research my genealogy in the Polish archives and I found over 200 names of my direct ancestors. In this part of the country, parish vital records usually start in the 18th century and only in a few cases was it possible to find reliable data before 1750 for the peasant lines of my pedigree. More documents exist for the nobility, so I was able to trace certain lines of my noble ancestry back to the 14th century. I did not find ancestors who would appear in history textbooks, but a few of them are mentioned in historical sources of various kinds. The most interesting thing in this research is to see how the commonly known history of the country and nation is reflected in the lives of our ancestors, even if their names have long been forgotten and can now sometimes be discovered in archives and libraries.

My paternal great-grandfather Stanislaw Bielecki was born into a carpenter's family in Rgielsko, a village close to the town of Wagrowiec which is NE of Poznan (please note that by this I always mean "Poznan City", not province). Stanislaw became a locksmith and settled in the city of Poznan during WWI. His wife, Stanislawa Pietrowicz was a daughter of a post office clerk. Stanislawa's family, whose ancestors were mostly poor peasants, came from the area very close to Poznan. The Pietrowicz family had lived in Poznan since the end of the 19th century. Stanis?aw and Stanis?awa married in 1917 in Poznan and most of their family has been living there ever since. My grandfather Seweryn Bielecki was born in Poznan in 1921 and worked as an accountant until his sudden death in 1975.

My paternal grandmother's family Wieczorek were also peasants, and came from the picturesque area of Znin, a town located half-way between Poznan and Bydgoszcz. My great-grandfather Mieczys?aw, whose father was a relatively rich farmer, could get his education in fine arts and was trying his luck as a painter. Later Mieczys?aw was active in small business in Poznan. In 1919 he married Izabela Soldenhoff, a young girl of noble origin. They lived in Poznan until the death of Mieczyslaw in 1936. The Soldenhoff family originated from Austria and one of them, Antoni Aleksander, came to Poland as an army officer at the end of the 18th century. His descendants married into Polish nobility and the family was considered Polish a hundred years later.
My grandmother Danuta Wieczorek was born to Mieczys?aw and Izabela in 1923 and she died in 1995.

My ancestors on the maternal side, the Nowak family, came from the village of Gostycyn, a little to the north of Bydgoszcz, which is now the region called Kujawsko-Pomorskie. Both parents of my grandfather J?zef Nowak (born in 1908), Jozef and Anna, came from wealthy farming families. Anna's family, the Rolbiecki's (some lines spell it "Lorbiecki") had been noble - at least according to family lore - in the Middle Ages but they were common peasants in modern times. My grandfather was a medical doctor himself and he lived in Bydgoszcz until his death in 1953.

The father of my maternal grandmother, Jan Kowalak was actually a great-grandson of a village blacksmith ("Kowal" in Polish), but the family became wealthy in the 19th century, so Jan owned a small manor in Trzcielin close to Poznan. The manor was confiscated by the Communists in 1945, and never returned to the family. Jan Kowalak married Marianna Pawlicka from the nearby village of Lusowo, where her parents were quite wealthy farmers. My grandmother Ludomira Kowalak was born in Trzcielin in 1914, and she died in 2006.
---
Here is a list of surnames present in my ancestry. All contacts from people researching them are welcome! Names of localities connected with the surnames are given in brackets.

Bielecki, Wziech, Konwinski, Polczynski, Kotecki, Kapsa or Kabza, Kabacinski (Rgielsko, Bracholin - Wagrowiec district, parishes of Tarnowo and Lekno)

Pietrowicz, Niedziecki (Rosnowko or Rosnowskie Oledry, parish of Komorniki), Bialas, Baran (parishes of Konarzewo and Steszew), Palacz (Gorczyn, now part of Poznan City), Bedy?ski, Przyborowski (parishes around Poznan) - all in the Poznan district

Wieczorek, Malak, Klucz, Jedrzejewski or Andrzejewski, Ches, Marosz, Wesolek, Bebenek, Kokocha (Wilczkowo, Podgorzyn, Jaroszewo, Januszkowo, Szelejewo - Znin district, parishes of Znin, Gora and Gasawa), Basinski (Modliszewko - Gniezno district)

Soldenhoff (de Soldenhoff or von Soldenhoff), Kielczewski - Warsaw

Kozlowski (Dulsk - Inowroclaw district, parish of Gora), Drweski, Wilkonski, Ostrowski, Sulerzyski, Mankowski - all of them being noble families from Greater Poland

Nowak, Rolbiecki, Behrendt (Gostycyn - Tuchola district), Rola, Wenda, Olender, Bulawa (Plocicz, Lutowko - Chojnice area, parish of Kamien Krajenski), Stanke, Zywert (Dziedzinek - Bydgoszcz district, parish of Makowarsko), Kortas (Medromierz - Tuchola district, parish of Jelencz)

Kowalak (Trzcielin or Trzcielin Duchowny, parish of Konarzewo), Pawlicki, Laskowski, Jankowski (Lusowo), Koralewski, Przybyl (Mrowino, parish of Cerekwica), Czajka, Cegiolka, Bernat or Bernacik (Fabianowo, now part of Poznan City) - all in the Poznan district
---

Comments, remarks or questions
---

Return to the Lukasz Bielecki's homepage
---
The Geneteka database does not tell you how to obtain copies or scans of records you are finding there.